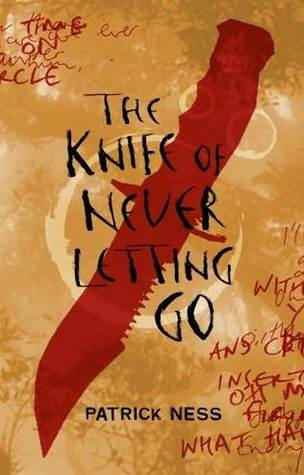 Goodreads Blurb 
Prentisstown isn't like other towns. Everyone can hear everyone else's thoughts in an overwhelming, never-ending stream of Noise. Just a month away from the birthday that will make him a man, Todd and his dog, Manchee — whose thoughts Todd can hear too, whether he wants to or not — stumble upon an area of complete silence. They find that in a town where privacy is impossible, something terrible has been hidden — a secret so awful that Todd and Manchee must run for their lives.
But how do you escape when your pursuers can hear your every thought?
My Review 
Rating: 4.5*
I'm not quite sure where to start with this book as I have some conflicting opinions on it, but before I dive into my review this book certainly wins the award for Best Opening Line:
"The first thing you find out when yer dog learns to talk is that dogs don't got nothing much to say."
There may be spoilers if you haven't read it yet.
What I didn't like was the incessant nature of the violence and the running of the main charcters, Todd and Viola. I actually found it exhausting. Some moments to pause and catch your breath as a reader may have made the action more shocking. I'm the kind of reader that will stay up all night reading a book if I'm enjoying it, but this book required frequent breaks.
I did, however, like the main characters. Their relationship developed nicely and didn't feel contrived. My favourite was Manchee the dog and (SPOILER ALERT!!!) I'm not sure if I've forgiven Patrick Ness for killing him off. I was genuinely distressed at his demise (SPOILER OVER!!!). I also liked how the world the author created was three dimensional, if at times a little hard to picture due to the amount of detail he provided.
Also, I must applaude the author for not patronising his younger audience. He did not shy away from the horror on account of protecting young minds. I think if he had done that the book would not be what it is, which is a fantastic read, thought provoking, and lingers in the mind long after you've reached the end.
All told, a must read book.