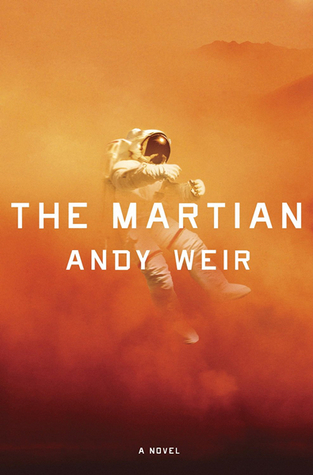 Goodreads Blurb
Six days ago, astronaut Mark Watney became one of the first people to walk on Mars. Now, he's sure he'll be the first person to die there.

After a dust storm nearly kills him and forces his crew to evacuate the planet while thinking him dead, Mark finds himself stranded on Mars' surface, completely alone, with no way to signal Earth that he's alive — and even if he could get word out, his supplies would be gone years before a rescue could arrive.

Chances are, though, he won't have time to starve to death. The damaged machinery, unforgiving environment or plain-old "human error" are much more likely to kill him first. But Mark's not ready to quit. Armed with nothing but his ingenuity and his engineering skills — and a gallows sense of humor that proves to be his greatest source of strength – he embarks on a dogged quest to stay alive, using his botany expertise to grow food and even hatching a mad plan to contact NASA back on Earth.

As he overcomes one seemingly insurmountable obstacle after the next, Mark begins to let himself believe he might make it off the planet alive – but Mars has plenty of surprises in store for him yet.

Grounded in real, present-day science from the first page to the last, yet propelled by a brilliantly ingenious plot that surprises the reader again and again, The Martian is a truly remarkable thriller: an impossible-to-put-down suspense novel that manages to read like a real-life survival tale.
My Review
Rating: 5*
If a book could be Christmas dinner this book would be it. All your favourite foods on one plate, from crispy goose fat roast potatoes to Yorkshire puddings filled with gravy. You have a few tasty extras, like cranberry sauce and stuffing balls, and a few less tasty extras, like Brussel sprouts and bread sauce, but Christmas dinner wouldn't be the same without them. In other words, this book is a real feast, a treat for the literary glutton.
I'm not going to talk about the plot, I hate to give spoilers. So I'll talk about everything but the plot. From the opening line I was hooked. From the opening line I was dreading the final page. I didn't want it to end and yet I couldn't put it down. I had to know what became of Mark Watney, Space Pirate.
The miracle of this book is that it reads like the telling of a true story. It is dense with science yet understandable to lay people like me. The fact that it contains so much science I believe is vital to the success of the story. I am by no means an expert but the science feels real and accurate, and it really lends itself to the authenticity of the story, the characterisation, and builds trust between the author and the reader.
Now I want to talk about the humour in the book. It's not a comedy, it's not a screwball and it's not slapstick but, boy, is it funny! Not since I read Grant Naylor's Red Dwarf twenty-five years ago have I burst out laughing because the funnies were so — well, funny. The humour feels so natural, so effortless, that it adds yet another layer to the already familiar and likeable character of  Mark Watney. It's the delivery and the timing that creates the much needed humour. The balance that Weir finds between fact, science, fiction and comedy is perfect. He pitches it just right, adding the perfect amount of seasoning to my Christmas dinner.
I'm rather fascinated with space and astronomy, though I have no desire to experience it first hand, being partial to things such as air and gravity. But watching other people explore it and discover it's hidden secrets is awe inspiring to me. Many a night has passed with my eye pressed up against my too heavy binoculars looking at the moon and thinking of when man walked on it's very surface. I wasn't born at the time of the moon landing and have often felt the disappointment of not having been a part of it, even merely as a viewer. Now, though, I feel as though I've had my very own voyeuristic space adventure courtesy of Andy Weir and, of course, the indomitable Mark Watney.
And, my, what an adventure it was.