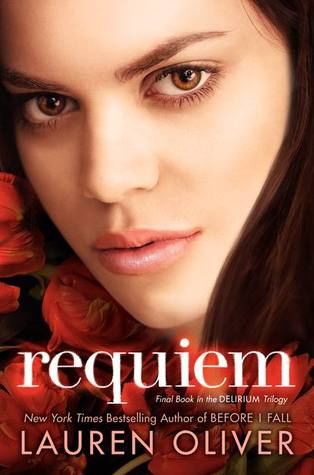 Goodreads Blurb
Now an active member of the resistance, Lena has transformed. The nascent rebellion that was underway in Pandemonium has ignited into an all-out revolution in Requiem, and Lena is at the center of the fight. After rescuing Julian from a death sentence, Lena and her friends fled to the Wilds. But the Wilds are no longer a safe haven. Pockets of rebellion have opened throughout the country, and the government cannot deny the existence of Invalids. Regulators infiltrate the borderlands to stamp out the rebels.
As Lena navigates the increasingly dangerous terrain of the Wilds, her best friend, Hana, lives a safe, loveless life in Portland as the fiancée of the young mayor. Requiem is told from both Lena and Hana's points of view. They live side by side in a world that divides them until, at last, their stories converge.
My Review
Rating: 3*
I've been all around the houses with the Delirium trilogy. This is a series I wanted to love but, sadly, didn't.
Why not?
It's a great concept, a scary concept, where love — amor deliria nervosa — is the enemy, a disease that afflicts and infects humanity and, therefore, must be eradicated. Snippets of the movie Equilibrium kept flashing through my head, and I really enjoyed that movie.
So why not this series?
I can only repeat my issue with book 2 (Pandemonium) — there simply isn't enough suspense, intrigue, to really get the juices flowing and the heart pounding.
That's why I don't love it.
The thing I did enjoy, more than the story, is Lauren Oliver's writing. Perhaps I didn't notice it in the first two books, or perhaps her writing has developed, but I found parts of this book to be a joy to read. I found her sentence structure and word selection in places to be a pleasure to read. For example:
"They will want to string the symbol up, and make it bleed meaning, so other's will learn their lesson."
Simple yet effective. I like when a collection of words paint a mental picture and also have a sub-context at the same time, and I found much of that in this book. But I think I enjoyed Ms Oliver's often adept use of words more than the story.
And therein lies the main problem for me with this book. It's like having a plate full of tasty 'amuse bouche' and being told that's dinner. No matter how tasty and well cooked each of those treats are it's just not satisfying enough to fill you up. I'm a glutton with books, I like to feel my head is full of the intrigue and anticipation that bubbles away inside you when you are reading a really great story told well. This falls a little short on that front.
I also enjoyed hearing Hana's story. I just wish there had been more trickery, more surprises, in how the story unfolded. Unfortunately this is a series that will not linger in my mind, but I will be interested to see what Ms Oliver writes next.