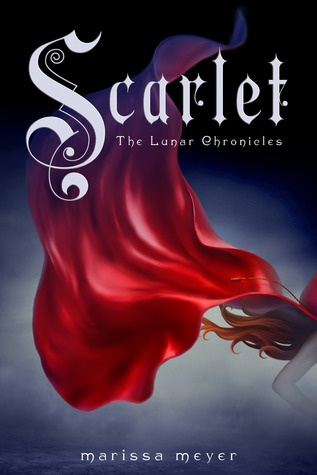 Goodreads Blurb
Cinder, the cyborg mechanic, returns in the second thrilling instalment of the best-selling Lunar Chronicles. She's trying to break out of prison–even though if she succeeds, she'll be the Commonwealth's most wanted fugitive.
Halfway around the world, Scarlet Benoit's grandmother is missing. It turns out there are many things Scarlet doesn't know about her grandmother or the grave danger she has lived in her whole life. When Scarlet encounters Wolf, a street fighter who may have information as to her grandmother's whereabouts, she is loath to trust this stranger, but is inexplicably drawn to him, and he to her.
As Scarlet and Wolf unravel one mystery, they encounter another when they meet Cinder. Now, all of them must stay one step ahead of the vicious Lunar Queen Levana, who will do anything for the handsome Prince Kai to become her husband, her king, her prisoner.
My Review
Rating: 3.5*
Sadly this book didn't grab me as much as Cinder did. It felt a little bit patchy for me, my interest wasn't sustained throughout the entirety of the book as it was with the first one. 
I did like the new characters and the fact that we had two threads to follow. This book was more complex than the first and I admire what the author is trying do in adding complexity and depth to the series as a whole. I don't think it was entirely successful but it was certainly not a failure in that respect, and I am prepared to attribute it to second-book-syndrome.
There won't be any sleepless nights for me while waiting for the next book but I will read it as there is enough good writing and interest in the plot and the characters for me to continue.