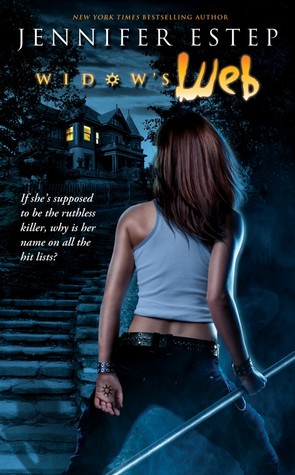 Goodreads Blurb 
I used to murder people for money, but these days it's more of a survival technique.
Once an assassin, always an assassin. So much for being plain old Gin Blanco. With every lowlife in Ashland gunning for me, I don't need another problem, but a new one has come to town. 

Salina might seem like a sweet Southern belle, but she's really a dangerous enemy whose water elemental magic can go head-to-head with my own Ice and Stone power. Salina also has an intimate history with my lover, Owen Grayson, and now that she's back in town, she thinks he's hers for the taking. 

Salina's playing a mysterious game that involves a shady local casino owner with a surprising connection to Owen. But they call me the Spider for a reason. I'm going to untangle her deadly scheme, even if it leaves my love affair hanging by a thread.
My Review
Rating: 4.5*

Gin Blanco is still one of my favourite female protagonists, and Jennifer Estep is yet to let me down in her recounting of Gin's adventures. Perhaps I'm just in a demanding or particularly picky frame of mind right now,(I get like that when I'm in writing mode) because, as much as I want to, I can't give this book 5*. 

Why? I hear you ask. If you love the story and you love the writing, why not give it full marks? 

I only have one answer to that. For the first time in reading an Elemental Assassins book I felt the formula. This series, as with many ongoing series, does follow a formula, but usually with this series I don't notice it. The story flows logically, with one or two surprises on the way, ending with Gin kicking ass. But with Widow's Web it felt very similar to a couple of the earlier books, just with a couple of name changes. The result of that was it lacked a little of the usual Gin magic that I have become accustomed to.

That is the only criticism I have of this book. What I am enjoying is watching Gin's development as a person, aside from her identity as The Spider. I very much like how this book focuses very heavily on Owen and his background, which I hope means we'll be seeing more of him as the series progress. In fact, many of the characters that feature in this series are growing and changing, even Jo-Jo (g'wan, rude girl!) has a little twinkle in her eye. Thankfully, Finn has stayed exactly the same: flirtatious, materialistic, fiercely loyal, utterly loveable.

I wonder what book #8 has in store.