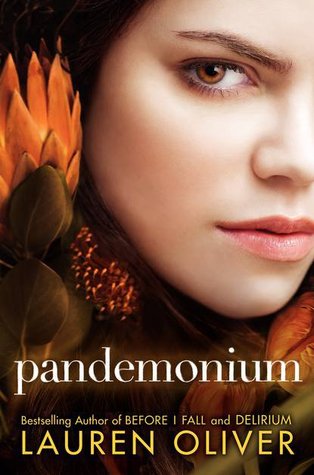 Goodreads Blurb
I'm pushing aside 
the memory of my nightmare, 
pushing aside thoughts of Alex, 
pushing aside thoughts of Hana 
and my old school, 
push, 
push, 
push, 
like Raven taught me to do.
The old life is dead.
But the old Lena is dead too.
I buried her.
I left her beyond a fence,
behind a wall of smoke and flame.

Lauren Oliver delivers an electrifying follow-up to her acclaimed New York Times bestseller, Delirium. This riveting, brilliant novel crackles with the fire of fierce defiance, forbidden romance, and the sparks of a revolution about to ignite.
My Review
Rating: 3.5*
I've finally identified the problem with this book. When we read books we enter into a tacit yet unspoken agreement with the writer to allow ourselves to be manipulated. But we don't want to be reminded of that throughout the book. We want the writer to conceal their machinations so we can fool ourselves long enough to go along with their story. This book was much better on many levels than book 1, but I think this was it's main flaw. There were no surprises. It was simply too predictable.

As much as I like to play detective when I read, I like nothing more than being so surprised by the direction a story takes that I occasionally get whiplash. That's why people go on rollercoaster's, otherwise theme parks would just be full of trains.

For me, this book was a train when what I wanted was a rollercoaster.