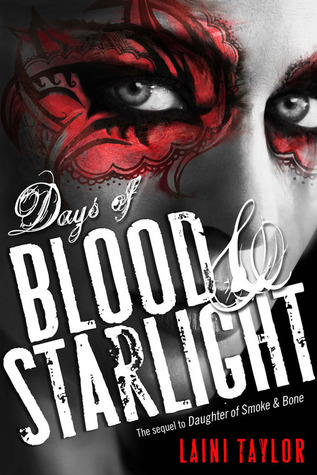 Goodreads Blurb
Once upon a time, an angel and a devil fell in love and dared to imagine a world free of bloodshed and war.
This is not that world.

Art student and monster's apprentice Karou finally has the answers she has always sought. She knows who she is—and what she is. But with this knowledge comes another truth she would give anything to undo: She loved the enemy and he betrayed her, and a world suffered for it.

In this stunning sequel to the highly acclaimed Daughter of Smoke & Bone, Karou must decide how far she'll go to avenge her people. Filled with heartbreak and beauty, secrets and impossible choices, Days of Blood & Starlight finds Karou and Akiva on opposing sides as an age-old war stirs back to life.

While Karou and her allies build a monstrous army in a land of dust and starlight, Akiva wages a different sort of battle: a battle for redemption. For hope.

But can any hope be salvaged from the ashes of their broken dream?
My Review
Rating: 5*
Wow! My heart is racing! This book…this series…is magic conjured by the written word. It left me breathless. I'm so jealous of Ms Taylor's skill. So beautifully does she weave words, this book has to be called art.

Karou's journey continues in book two right from where it left off in book one. Everything has changed. She is alone, seperated from all her loved ones and forced into dealing with someone she would otherwise choose to avoid. And Akiva's betrayal has left her altered: hard, vengeful, broken. 

Desperate to save the chimaera from extinction at the hands of the Seraphim, Karou tries to turn off her feelings for Akiva and focus instead on rebuilding, re-conjuring a chimaeran army. But her loneliness, her devastation and heartbreak are palpable and they crawl off the page like a living thing. Laini Taylor makes sympaths of us all as we feel what Karou feels. 

What makes it all the more impressive is that the book is written in third person narrative and flits between different perspectives, yet is still personal enough to absorb the reader. At no point does the writing become confused or tricky to follow. It flows seamlessly from one thread to the next, as unnoticed as a tear in lace mended by a master with a needle. 

The pace of the book initially feels slow, but as I continued to read I realised that quite a lot was actually happening, just in such a way as it felt effortless. The reading was so pleasurable that I just wanted it to keep going. With a lot of good books you're so desperate to find out what happens next that you wish the book away, rush through the pages. This book, however, is so beautifully written and cleverly paced that, though you really want to know what happens next, the experience of reading this book is equally as satisfying as having your curiousity sated. Very few books engender this type of response in me that I relish it when it does. 

I could go on but instead I'm just going to say this: if you want a book that will in turn make you gasp, make you sigh, make you cry and make you cheer, you have to read Days of Blood and Starlight. It's breathtaking.