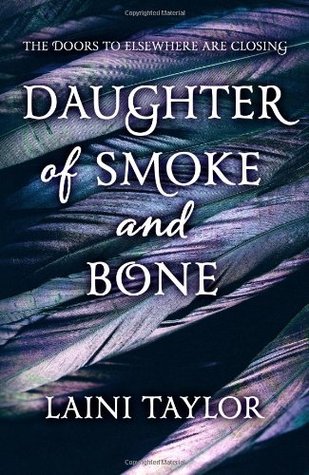 Goodreads Blurb
"Errand requiring immediate attention. Come."
The note was on vellum, pierced by the talons of the almost-crow that delivered it. Karou read the message. 'He never says please', she sighed, but she gathered up her things.
When Brimstone called, she always came."

In general, Karou has managed to keep her two lives in balance. On the one hand, she's a seventeen-year-old art student in Prague; on the other, errand-girl to a monstrous creature who is the closest thing she has to family. Raised half in our world, half in 'Elsewhere', she has never understood Brimstone's dark work – buying teeth from hunters and murderers – nor how she came into his keeping. She is a secret even to herself, plagued by the sensation that she isn't whole.

Now the doors to Elsewhere are closing, and Karou must choose between the safety of her human life and the dangers of a war-ravaged world that may hold the answers she has always sought.
My Review
Rating: 5*
This is one of the most evocative books I've read in a while. Ms Taylor does not spend un-necessary amounts of time on flowery scene descriptions, but rather, spends time carving the building blocks of an emotional landscape. 

I try really hard not to do spoilers so instead I'll talk about the characters. I really felt like I got to know the two main characters in this story. Karou, who I developed a real empathy for, and Akiva, who I grew to understand the further the story went. However, the great characterisation was in no way at the expense of a great story or great writing. In fact, Ms Taylor, in my humble opinion, is a naturally talented writer. Her style had hints of Dean Koontz in her dexterity with words,flashes of Phillip Pullman's "His Dark materials" in world building, and the romance was just delicious. Not too much but enough, not patronizing, not contrived. 

This is a book that delivers more than it promises. A good premise is not enough. It needs layers and believable characters that you can become involved with and care about, and a style of writing that makes you want to keep turning the pages while at the same time dreading reaching the end because then you won't be able to read any more. This book has that and so much more.

Good books don't fit into a box. It's irrelevant that this book is YA. It's simple a really good book.
Would definitely recommend. You won't be disappointed.