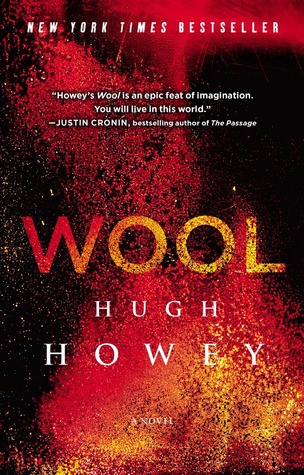 Goodreads Blurb
In a ruined and toxic landscape, a community exists in a giant silo underground, hundreds of stories deep. There, men and women live in a society full of regulations they believe are meant to protect them. Sheriff Holston, who has unwaveringly upheld the silo's rules for years, unexpectedly breaks the greatest taboo of all: He asks to go outside.

His fateful decision unleashes a drastic series of events. An unlikely candidate is appointed to replace him: Juliette, a mechanic with no training in law, whose special knack is fixing machines. Now Juliette is about to be entrusted with fixing her silo, and she will soon learn just how badly her world is broken. The silo is about to confront what its history has only hinted about and its inhabitants have never dared to whisper.
Uprising.
My Review
Rating: 5*
Wow! Wow! Wow!
I can't say enough good things about this book. It's beautifully written without being being frilly. It's provocative without being being preachy. It's clever without being dense. This book is like a six course meal; you get enough of everything without feeling sick, and if you eat all six courses, by the end of it you feel satisfied. All of your taste buds have been tickled and tantalised, your hunger for something different and exciting in every mouthful has been satiated, but there's still room for more, you wish there was more, you wish you could eat the meal all over again!
From concept to characterisation, Mr Howey has pitched it just right. His world in the silo is believable, his world outside the silo scarily plausible. Juliette is an exceptional protagonist, a reluctant protagonist. She's nicely flawed but has a core of steel and a heart of gold. I wish I could meet her.
I'm not going to talk about the story. You have to read it for yourself. But read it you must. For all book lovers out there, this is a must read. Go on, you know you want to!